I'm not very good at telling stories but I have a few pics with brief a description of our epic journey from London to Cambridge on our OSBmx's.
20 of us signed up to do the moonriders challenge that took place on the 10th may 2013. Some of these guys were good friends but are almost like brothers to me now. 15 guys and 1 lady turned up to do the challenge and we all smashed it especially Craig Schofield (the machine). He was second to the finish out of 300ish riders!
Special thanks to anybody that donated.
2 weeks before the ride I decided to build up a skyway Ta frame to ride on the challenge.
I wasn't to happy with the aero pro wheels I pinched of last years moonriders bike so I built up some black 7xs on sealed suzue hubs.
The testing begun by me and my better half doing a 16 mile ride
We had a little problem with the cranks arms wobbling but nothing to major. It was ready as far as I was concerned.
Friday the 10th I went of to meet Russ demofour at Romford train station and made our way to Stratford international to meet Jack (j80kns) and Dave (beard1973) who turned up in a taxi!
We set of to meet the rest of the clan at hackney marshes after we had a meal at westfields where we were able to sit with our "little bikes" and change the menu! Lol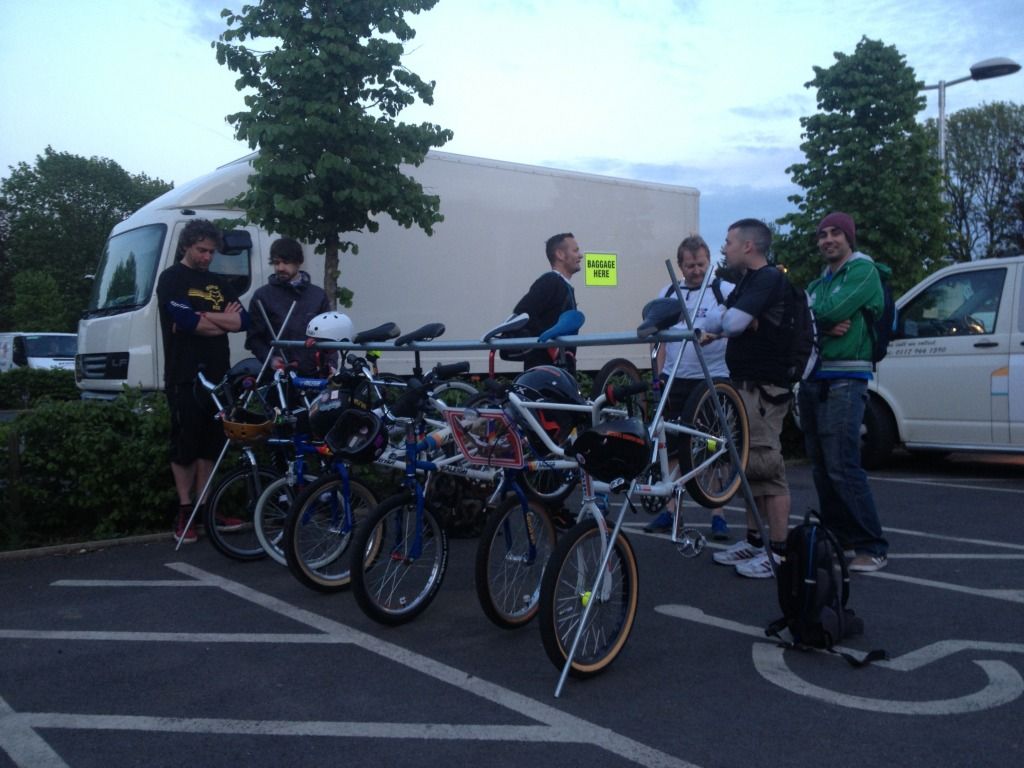 We got our packs and set off at 22:00hrs I'm not joking but we spun those little bikes flat out all the way to Cambridge through the night facing wind and rain. It wasn't pleasant but we never stopped smiling. We had some great moments with no brakes in the wet and racing/slip streaming mountain bikes.
Craig had gone off on his own and we were a good solid pack of 5, myself, Dave, Jack, Monkian and Ronniebrain. The only failure we had was that my bb cup tried to work it's way out of the frame but we all stopped and fixed it. Thanks guys. 4hrs 48mins of riding time we were crossing the finish with an average speed of 13.7 mph.
We all got a medal
Hopefully Leemadz can add a little story about his ride as he was looking after the group at the back where there was a nasty off!!
I am very proud of my ride and I'm going to tray it to a overhaul in the near future